Under the pretense of helping a friend I am telling you about Anita's rugs entered in the Annie Selke design competition.
But really it is selfishness that brings me to this post.
You see, the world, me & YOU need these rugs to be made so we can get our hands on them.
Sure I am more than happy to support my friends in their creative endeavors, but I really want the rugs!
You will too…
VOTE FOR THIS RUG HERE.
Have you seen them? Gorgeous!
The quote rug above is so unique & the sentiment inspiring.
Here is Anita's fleur de lis rug in her hallway.  (not sure how she did that ~ thru the magic of photoshop maybe)
Speaking of Hallways…our podcast episode for today is all about decor for your hall.  LISTEN in…
VOTE FOR THIS RUG HERE .
Then there is the grain sack stripe with monogram design.   
VOTE FOR THIS RUG HERE .
And this is what the Instagram images look like.  You simply TAP the heart to like.  It turns red and you have cast your vote.
Now let me tell you about the design competition.
A handful of talented bloggers were chosen to design rugs.  Each created 3 designs. The top 10 designs in terms of "likes" on Instagram will be made into real, as in you can walk on them in your own home (do take your shoes off first) rugs.  
Exciting, fun and, in Anita's own words "a dream come true".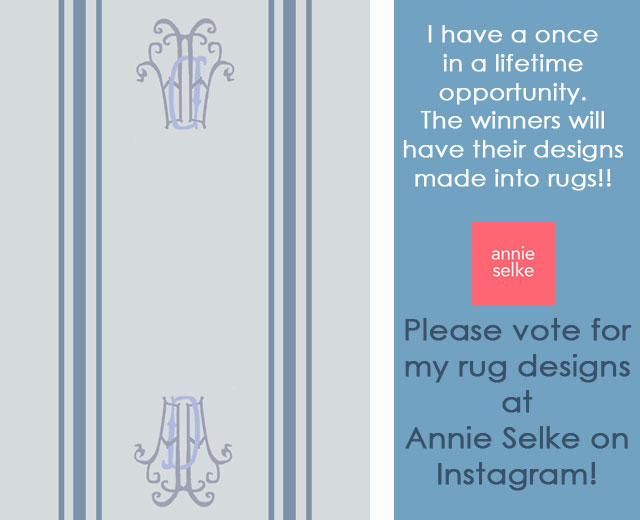 A simple LIKE can help make a dream come true!  YOU can help a dream come true & get these rugs into our hands!
You wanna make a dream come true?  You wanna have the chance to bring these stunning rugs into the world?  I know you do!
So simply pop over HERE.  Scroll down until you see these three rugs.  Then tap the heart for each of the three.  Done!
If it were only that simple to make dreams come true everyday!
Did I hear you say you aren't on Instagram?  Well today is the day to join, your friends & family there and help make a dream come true.  Just takes a few minutes to sign up and you will have such fun once you are there.
Thank you,
** Kelly **
p.s. best of luck Anita – so proud of you! xx